I never really subscribed to the whole Netflix and chill phenomenon because a) I didn't have Netflix and b) who has the time to chill??? That was my thinking…until my family got Netflix and there was no turning back for me. I need that Netflix and chill fix. 
In the few months that I've been MIA, I was bingeing on a lot of TV shows on Netflix, which were mostly anime (haha!). And it sort of snowballed from there because how does one not fall deep into the abyss that is Netflix??? Though just recently I haven't been watching anything since I got into reading manga…which is another story.
So here's the time when Netflix and anime took over my life.
DYNASTY
I really don't know much about the original Dynasty series, but I do know that after seeing multiple YouTube ads of the 2017 reboot, I was eager enough to check it out on Netflix. And oh boy, I did not expect to get addicted.
Basically, this series is about a filthy rich family who would do anything (and anyone) to protect their company and cement their status in society as one of the most powerful families. All the while trying to make it through Sunday breakfast.
I'm telling you: this show is oozing with drama and one-liners. Things really get going about midway through the season, but I promise you will enjoy every hour of it. Especially now since it's over and you can binge the entire season! Do it.
BLACK MIRROR
This was a series I remember seeing pop up numerous times online. Whether it was a meme or a tweet, I was curious because they gave nothing away about what this series is about. A couple of friends and I decided to check out one episode (Shut Up and Dance) to see what the buzz is all about, and after that we sort of binged the entire thing in a few weeks.
Black Mirror is one helluva genius show. It's unlike everything I've watched before, and I love that it's an anthology. You get to see so many different stories, but they all point to one thought: technology fucks up the human race. And these stories range from mild and somewhat confusing to the downright what the fuck just did I just watch? 
If you're into science-fiction and just a general thrill, I highly recommend this series. Also, if you're curious about what my thoughts were per episode, let me know down in the comments and maybe I'll share a collective review!
CHEF'S TABLE
I don't know about you, but the Food Network channel is the best channel on earth. I spent a good part of my childhood watching Giada De Laurentiis and Ina Garten cook on their amazing kitchens loaded with delicious food (I'm already salivating just thinking about it haha). So it's no surprise I tuned in this amazing documentary series about remarkable people in the food industry. Highly, highly recommend it.
FULLMETAL ALCHEMIST BROTHERHOOD
Oh my god this show this anime. I finally understand why a lot of people are calling this the greatest anime of all-time. It's so fucking good it hurts. I binged this series on Netflix in like three days??? And I can't get enough of the characters, of the storyline, of the opening and ending themes. GAHHHH.
I have yet to watch the 2003 series, but honestly, how can it top FMAB?????? It's a masterpiece, what can I say. GAHHHH.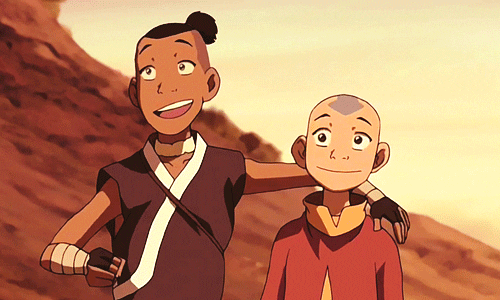 AVATAR: THE LAST AIRBENDER
Technically, this isn't an anime but I have to talk about it anyway. I remember watching this show as a kid on Nickelodeon and trying to not miss a single episode. But guess what: little Miguel forgot to watch the two-hour finale. And for almost ten years, I was in the dark whether or not Aang and Team Avatar defeated the Fire Lord…but thank youuuuuuuu, Netflix!
Now as a young adult, I can say I appreciate the series more. I noticed a lot of societal and cultural themes intertwined with the characters and the story. To think a series as smart as this was a kid's show. Good job, Nickelodeon!
Also, let me know if you've watched The Legend of Korra because I'm still hesitant to watch it haha.
ORANGE
Years ago, I accepted the fact that nothing and nothing can beat Clannad as the saddest anime of all-time. But I was so, so wrong. I don't want to say anything else about Orange other than it's fairly short – the manga, and the anime is like 12 or 13 episodes on Netflix.
If you haven't watched it, go – it's a beautiful, relatable anime. Totally recommend. If you have watched it……how are you surviving??????
MY HERO ACADEMIA
My thoughts after the first episode: oh my god this is like Sky High but better. This is the superhero high school anime I didn't know I needed in my life. I have nothing but praises for this anime, and the manga as well! There's a great cast of characters, the story arcs are thrilling, and the art is just amazing. I highly recommend this!
WOTAKOI: LOVE IS HARD FOR OTAKU
This is not your typical romance anime. The story revolves around two childhood friends who unexpectedly reunite in an office they both work for. One is a closeted otaku and the other is a hardcore gamer otaku. Together they try to navigate the world of adulthood all the while finding love in each other…but is there love for otakus?
Another anime I highly recommend for its wittiness and great cast of characters!
GEKKAN SHOUJO NOZAKI-KUN
Another funny and light-hearted romance anime I highly recommend!
This time, the story revolves around a girl who attempts to confess to a boy she likes, but instead he mistakes her for a fan of his manga and gives her an autograph instead. I honestly have never laughed out loud over an anime before.
BLACK CLOVER
Currently, this is the anime I'm watching! The story's similar to Fullmetal Alchemist – it's set in a world where people have magical powers and once you turn fifteen, you get a spell book of some sorts, and then you train to become the greatest ninja out there. Oh, wait that's a different anime.
Anyway! I'm really enjoying it so far. I'm planning on reading the manga first, I think, even though I'm a few episodes in already. So no spoilers pleaseeee.
And that concludes this incredibly looooong ass post. I'm still working out a few things before I can resume to my regular programming here on my blog, and I promise an update will be up soon! Again, thanks so much for sticking with me. Until next time, quirks!
have you watched any of these shows? what'd you think? got a rec for me? sound off on the comments below!